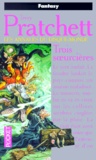 Trois soeurcières [Texte imprimé] / Terry Pratchett ; [traduit de l'anglais par Patrick Couton]
PPN :

052043851
Publication :

Paris : L'Atalante, DL 1999
Description :

1 vol. (286 p.) : couv. ill. en coul ; 18 cm
ISBN :

2-266-09134-4
Belong to the serie :
Presses pocket. Science fiction
Set :
˜Les œannales du disque-monde
Subject - Topical Name :
Science-fiction anglaise -- Traductions françaises
Document type :

Livre
List(s) this item appears in:
Littérature ENSSAT
Item type
Current location
Call number
Status
Date due
Barcode
Item holds
Prêt normal
ENSSAT

ENSSAT - Magasin temporaire

LITTERATURE (Browse shelf)

Available

0960017299
Trad. de : "Wyrd sisters"
Numérotation dans la coll. principale : 5721