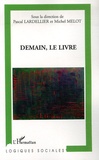 Demain, le livre / sous la direction de Pascal Lardellier et Michel Melot
PPN :

112559492
Publication :

Paris : l'Harmattan, DL 2007
Description :

1 vol. (203 p.) : couv. ill. en coul. ; 22 cm
ISBN :

2-296-02677-X
ISBN :

978-2-296-02677-3
Note :

Autre tirage : 2008
Belong to the serie :
Logiques sociales
Subject - Topical Name :
Livres et lecture -- Prévision | Lecture sur écran -- Prévision
Subject :
Actes de congrès
Document type :

Livre
Item type
Current location
Call number
Status
Date due
Barcode
Item holds
Prêt normal

BU Centre

BU Centre - Magasins Fonds professionnel

G17682 (Browse shelf)

Available

0982462271
Autre tirage : 2008
Contient certaines des communications données lors d'un séminaire organisé en juillet 2004 par les auteurs à l'Université d'Oradea, Roumanie, au sein d'une conférence internationale consacrée à l'Europe
Bibliogr. p. [199-204]. Notes bibliogr.