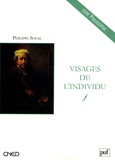 Visages de l'individu / Philippe Soual
PPN :

129585912
Publication :

Paris : Presses universitaires de France, impr. 2008, cop. 2008
Description :

1 vol. (202 p.) : couv. ill. en coul. ; 21 cm
ISBN :

978-2-13-057106-3
Belong to the serie :
Collection CNED-PUF
Subject - Topical Name :
Individu (métaphysique) | Individualité | Individualisme
Document type :

Livre
Item type
Current location
Call number
Status
Date due
Barcode
Item holds
Prêt normal

BU Beaulieu

BU Beaulieu - Philosophie (étage)

126 SOU VIS (Browse shelf)

Available

0991948189
Bibliogr. p. [199]-202. Notes bibliogr.