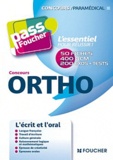 Ortho [Texte imprimé] / Valérie Béal,... Johanna Godon,... Catherine Goupille,... [et al.] ; sous la direction de Anne Ducastel, Valérie Béal
PPN :

150553773
Publication :

Vanves : Foucher, impr. 2011
Description :

1 vol. (191 p.) : couv. ill. en coul. ; 21 cm
ISBN :

978-2-216-11553-2
Belong to the serie :
Pass'Foucher
Subject - Topical Name :
Centres de formation d'orthophonie -- Examens d'entrée | Orthophonistes -- Recrutement | Culture générale -- Questions à choix multiple | Orthophonie -- Questions-réponses
Document type :

Livre
Item type
Current location
Call number
Status
Date due
Barcode
Item holds
Prêt normal

BU Villejean Santé

BU Villejean Santé - RDC - Salle Martin Winckler

371.4 DUC (Browse shelf)

Available

1052038544
La couv. porte en plus : "L'essentiel pour réussir! 50 fiches. 400 QCM. 200 exos + tests. L' écrit et l'oral : langue française, travail d'écriture, culture générale, raisonnement logique et mathématiques, épreuve de créativité, épreuves orales"