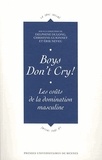 Boys don't cry ! : les coûts de la domination masculine : [colloque, Rennes, 14-15 janvier 2010 / organisé par l'Institut d'études politiques]
PPN :

160557887
Publication :

Rennes : PUR, DL 2012
Description :

1 vol. (330 p.) : ill. ; 24 cm
ISBN :

978-2-7535-1827-8
Belong to the serie :
Le Sens social (Rennes)
Other edition on other media :
Boys don't cry !
Subject - Topical Name :
Rôle selon le sexe | Relations hommes-femmes | Masculinité | Hommes -- Attitude (psychologie) | Sexisme
Subject :
Actes de congrès
Document type :

Livre
List(s) this item appears in:
IUT GEACS - Alain Binard
Item type
Current location
Call number
Status
Date due
Barcode
Item holds
Prêt normal

BU Centre

BU Centre - Salle H

305.3 BOY (Browse shelf)

Available

0986347123
Prêt normal
IUT de Rennes (GEA-CS)

IUT Rennes - Ouvrages

305.3 BOY (Browse shelf)

Checked out

28/10/2022

1680188081
Prêt normal
Sciences Po Rennes

IEP Rennes - Salle Jane Austen

CC 122 BOY (Browse shelf)

Available

1246233500
PUR = Presses universitaires de Rennes
Bibliogr. p. 299-324. Notes bibliogr.