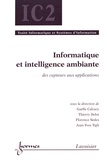 Informatique et intelligence ambiante : des capteurs aux applications / sous la direction de Gaëlle Calvary, Thierry Delot, Florence Sèdes... [et al.]
PPN :

163650454
Publication :

Paris : Hermès science, DL 2012
Description :

1 vol. (366 p.) : ill. ; 24 cm
ISBN :

978-2-7462-2981-5
Belong to the serie :
Traités IC2. Série Informatique et systèmes d'information
Subject - Topical Name :
Systèmes homme-machine | Informatique omniprésente | Intelligence ambiante | Matériaux intelligents | Réseaux de capteurs (technologie) | Domotique
Document type :

Livre
Item type
Current location
Call number
Status
Date due
Barcode
Item holds
Prêt normal

BU Beaulieu

BU Beaulieu - Informatique et Sciences de l'ingénieur (RdC)

006.3 CAL INF (Browse shelf)

Available

0992471624
Autre contribution : Jean-Yves Tigli (directeur de publication)
Bibliogr. en fin de chapitres. Index
Chapitre 1. Intelligence ambiante : effet de mode ou discipline d'avenir ? Chapitre 2. Penser la démarche éthique. Chapitre 3. Les réseaux de capteurs. Chapitre 4. Smart Systems, intelligence ambiante et sources d'énergie : état des lieux et applications à venir. Chapitre 5. Intergiciels pour l'informatique ambiante. Chapitre 6. WComp, intergiciel pour l'informatique ambiante et adaptation centrée système. Chapitre 7. Accès aux données et informatique ambiante. Chapitre 8. Sécurité et systèmes ambiants : une étude sur l'évolution de la gestion des accès dans les systèmes d'information pervasifs. Chapitre 9. Systèmes interactifs et adaptation centrée utilisateur : la plasticité des interfaces homme-machine. Chapitre 10. Composition d'interfaces homme-machine. Chapitre 11. Des habitats intelligents pour les personnes atteintes de troubles cognitifs. Chapitre 12. Entre jeux pervasifs et applications critiques. Chapitre 13. Les systèmes de transport intelligents. Chapitre 14. Systèmes sociotechniques ambiants : du scénario aux verrous.