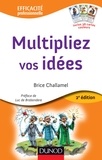 Multipliez vos idées [Texte imprimé] / Brice Challamel ; préface de Luc de Brabandère
PPN :

167725661
Publication :

Paris : Dunod, DL 2013, cop. 2013
Description :

1 vol. (XVI-202 p.) : ill., couv. ill. en coul. ; 22 cm + un jeu de 36 cartes couleurs à découper
ISBN :

978-2-10-058754-4
Belong to the serie :
Efficacité professionnelle (Paris. 1998)
Subject - Topical Name :
Réalisation de soi | Créativité dans les affaires | Succès
Document type :

Livre
Item type
Current location
Call number
Status
Date due
Barcode
Item holds
Prêt normal
INSA

INSA - Salle

658.51 CHA (Browse shelf)

Available

1710009515
La couv. porte en plus : "inclus 36 cartes couleurs"
Vous avez un projet à construire ? Un problème à résoudre ? Multipliez vos idées grâce à des exercices simples et efficaces, illustrés de nombreux exemples concrets. Stimulez votre créativité avec le jeu des 7 Familles Empathik et progressez en cinq étapes pour développer des solutions innovantes grâce à la méthode CREER : Comprendre, Rêver, Entreprendre, Evaluer, Réaliser. 50 défis vous permettront d'aller plus loin en trouvant de nouvelles occasions de « jouer aux idées neuves » ! [Source : d'après la 4e de couverture]