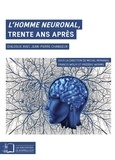 L'homme neuronal, trente ans après : dialogue avec Jean-Pierre Changeux / sous la direction de Michel Morange, Francis Wolff et Frédéric Worms
PPN :

190627689
Publication :

Paris : Éditions Rue d'Ulm, DL 2016
Description :

1 vol. (154 p.) : couv. ill. en coul. ; 21 cm
ISBN :

978-2-7288-0546-4
Note :

Autre tirage : 2018
Belong to the serie :
Les Rencontres de Normale sup'
Subject - Personal Name :
Changeux -- Jean-Pierre -- 1936-
Subject - Topical Name :
Cerveau -- Physiologie | Neurobiologie | Neurosciences cognitives | Neurosciences | Neuropsychologie
Subject :
Actes de congrès
Document type :

Livre
List(s) this item appears in:

BUB Semaine du cerveau | BUVS: cerveau 2020 | BUVS cerveau 2021
Item type
Current location
Call number
Status
Date due
Barcode
Item holds
Prêt normal

BU Beaulieu

BU Beaulieu - Sciences de la vie (RdC)

612.8 CHA HOM (Browse shelf)

Available

0992738420
Prêt normal

BU Villejean Santé

BU Villejean Santé - Magasins Fonds général

MS5777 (Browse shelf)

Available

1052326313
Browsing BU Villejean Santé shelves, Shelving location: BU Villejean Santé - Magasins Fonds général Close shelf browser
Textes issus d'une rencontre les 16 et 17 octobre 2014 à l'École nationale supérieure de chimie de Paris et à l'École normale supérieure
Autre tirage : 2018
Bibliogr. p. 145-154. Notes bibliogr. en bas de pages
Contient une contribution de Jean-Pierre Changeux
Résumé éditeur : "En 1983 paraissait L'Homme neuronal de Jean-Pierre Changeux. L'ouvrage eut un impact considérable, bien au-delà du monde scientifique. Il proposait un nouveau programme de recherche en neurobiologie, mais aussi une vision matérialiste des rapports entre le cerveau et la pensée. De ce fait, il suscita des réactions parfois violentes chez les philosophes et les psychanalystes. Plus de trente ans après, nous ouvrons de nouveau le débat entre Changeux, ses collègues scientifiques, les spécialistes des sciences humaines et les philosophes. Si l'échange a lieu dans un esprit d'écoute et dans une ambiance apaisée, cela ne signifie pas que les différences de point de vue aient disparu. Ce livre montre les progrès accomplis dans la connaissance du cerveau pendant ces dernières décennies et la manière dont le débat a évolué tout en conservant sa force et son actualité. L'ensemble constitue aussi une excellente introduction à l'œuvre de Jean-Pierre Changeux."