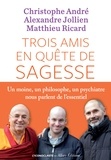 Trois amis en quête de sagesse / Christophe André, Alexandre Jollien, Matthieu Ricard ; sous la direction de Catherine Meyer
PPN :

191280992
Publication :

Paris : L'Iconoclaste, DL 2016
Description :

1 vol. (481 p.) : ill. ; 23 cm
ISBN :

979-10-95438-01-4
Subject - Topical Name :
Sagesse | Vie | Spiritualité | Réalisation de soi | Sérénité
Document type :

Livre
Item type
Current location
Call number
Status
Date due
Barcode
Item holds
Prêt normal
INSA

INSA - Salle

158.1 AND (Browse shelf)

Available

1710063944
Prêt normal
INSA

Retiré

158.1 AND (Browse shelf)

Retiré

1710297271
Notes bibliogr.
Résumé éditeur : "Un moine, un philosophe, un psychiatre. Depuis longtemps, ils rêvaient d'écrire un livre ensemble, pour être utiles, pour apporter des réponses aux questions que tout être humain se pose sur la conduite de son existence. Quelles sont nos aspirations les plus profondes ? Comment diminuer le mal-être ? Comment vivre avec les autres ? Comment développer notre capacité au bonheur et à l'altruisme ? Comment devenir plus libre ? Sur chaque thème, ils racontent leur expérience, leurs efforts et les leçons apprises en chemin. Chaque fois, ils nous proposent des conseils. Leurs points de vue sont différents, mais ils se retrouvent toujours sur l'essentiel. Un livre limpide et lumineux pour apprendre le métier de vivre."
Quelles sont nos aspirations les plus profondes L'éco, ami ou imposteur? Apprendre à vivre avec nos émotions L'art de l'écoute Le corps : boulet ou idole? Aux origines de la souffrance La cohérence : une question de fidélité Altruisme : tout le monde y gagne L'école de la simplicité La culpabiblité et le pardon La vraie liberté : de quoi puis-je me libérer? Nos pratiques quotidiennes Epilogue