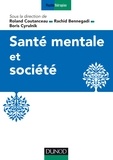 Santé mentale et société / sous la direction de Roland Coutanceau, Rachid Bennegadi, Boris Cyrulnik
PPN :

198357486
Publication :

Malakoff : Dunod, DL 2017
Description :

1 vol. (XIV-203 p.) : ill., couv. ill. ; 24 cm
ISBN :

978-2-10-075896-8
Belong to the serie :
Collection Psychothérapies
Subject - Topical Name :
Traumatisme psychique | Relations humaines | Santé mentale | Résilience (psychologie) | Santé mentale | Environnement social
Document type :

Livre
List(s) this item appears in:
BUVS santé des étudiants
Item type
Current location
Call number
Status
Date due
Barcode
Item holds
Prêt normal

BU Villejean Santé

BU Villejean Santé - RDC - Salle Madeleine Brès

WM 12 COU (Browse shelf)

Available

1052333816
Bibliogr. p. [199]-203. Notes bibliogr.