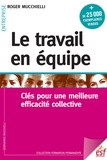 Le travail en équipe : clés pour une meilleure efficacité collective / Roger Mucchielli
PPN :

196204925
Edition :

17e édition
Publication :

Paris : ESF éditeur
Publication :

C 2016
Description :

1 vol. (203 p.) : ill., graph., fig., tabl., couv. ill. en coul. ; 24 cm
ISBN :

978-2-7101-3149-6
Belong to the serie :
Formation permanente en sciences humaines
Belong to the serie :
Collection Formation permanente. Série Entreprise
Subject - Topical Name :
Ressources humaines | Psychologie des organisations | Dynamique des groupes | Groupes de travail | Gestion du personnel | Efficacité au travail | Équipe gestion institutionnelle
Document type :

Livre
List(s) this item appears in:
IUT GEA-CS - Gestion de projet
Item type
Current location
Call number
Status
Date due
Barcode
Item holds
Prêt normal
IUT de Rennes (GEA-CS)

IUT Rennes - Ouvrages

302.3 MUC (Browse shelf)

Checked out

08/06/2022

1680188029
L'ouvrage mentionne l'ISSN de la collection principale : 0768-2026
Numérotation dans la collection principale : 18
Notes bibliogr. Bibliogr. p. 197-200. Lexique. Index
Savoir travailler est une compétence qui se travaille car l'efficacité collective d'une équipe n'est pas seulement affaire de cohésion et d'organisation. Elle s'appuie sur des principes, des règles, une dynamique qui doivent être maîtrisés pour conduire à la réussite de l'équipe sur le terrain. Cet ouvrage permet un véritable apprentissage du travail en équipe : Quels sont les facteurs clés du travail en équipe ? Comment s'exerce l'autorité dans l'équipe ? Quel est son rapport à l'action ? Comment naît l'esprit d'équipe ?
1ère partie - Chapitre 1 : Du groupe expérimental à l'équipe de travail 1ère partie - Chapitre 2 : Les relations interpersonnelles dans l'équipe et l'esprit d'équipe 1ère partie - Chapitre 3 : L'équipe dans ses rapports avec la tâche 1ère partie - Chapitre 4 : Autorité et structures d'influence dans l'équipe de travail 1ère partie - Chapitre 5 : La formation au travail en équipe 2ème partie - Exercices 3ème partie - Pour aller plus loin : programme de session de formation, plan de session de formation