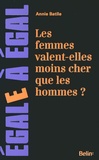 Les femmes valent-elles moins cher que les hommes ? : sur les inégalités de salaires entre les femmes et les hommes / Annie Batlle
PPN :

177577347
Publication :

[Paris] : Belin, DL 2014
Description :

1 vol. (79 p.) ; 19 cm
ISBN :

978-2-7011-8248-3
Belong to the serie :
Égale à égal (Paris)
Subject - Topical Name :
Disparités des salaires -- France | Discrimination sexuelle dans l'emploi | Égalité de rémunération | Femmes -- Salaires
Document type :

Livre
List(s) this item appears in:
IUT GEACS - Nouveautés 1er semestre 2021
Item type
Current location
Call number
Status
Date due
Barcode
Item holds
Prêt normal
INSA

INSA - Salle

305.42 BAT (Browse shelf)

Available

1710062367
Prêt normal
IUT de Rennes (GEA-CS)

IUT Rennes - Ouvrages

305.4 BAT (Browse shelf)

Available

1680248853
Bibliogr. et liste de sites Internet p. 71-74. Chronol.
"Si on compare les salaires des femmes à ceux des hommes – à poste égal, par niveau de responsabilité, par secteur, par métier, par âge, par diplôme – force est de constater que leur valeur sur le marché de l'emploi est moindre. Les femmes qui accèdent à des emplois de bon niveau sont moins payées que les hommes. Les temps partiels, le sous-emploi, qui concernent surtout des femmes, font sombrer les moins qualifiées dans la pauvreté. L'objet de ce livre est de démonter les ressorts de ces paradoxes et de mettre en évidence les bénéfices individuels et collectifs de l'égalité salariale." [Source : 4e de couv.]